Nonathlon Profile ( ckaiserca 2009 )
ckaiserca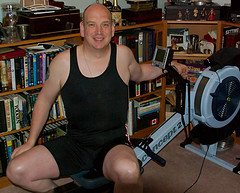 Charles Kaiser
Male 45
When I was in university, I weighed in at around 175 lbs. In the intervening years, I had ballooned to over 270! Something had to be done. . .
I started rowing with rowing with my Concept 2 on June 11, 2007. I have lost over 40 pounds and I am feeling GREAT!
My goal for the year is 3 million+ meters, completing all of the online challenges, personal bests at the 2009 CIRC, and to keep moving up on the honor board.
| | | | | | | | | | | | |
| --- | --- | --- | --- | --- | --- | --- | --- | --- | --- | --- | --- |
| Total | 500m | 1k | 2k | 5k | 6k | 10k | 30 | 60 | HM | M | + |
| 7079 | 771 | 780 | 782 | 745 | 788 | 778 | 797 | 784 | 754 | 696 | 100 |
| | 1:42.5 | 3:44.5 | 7:43.0 | 22:00.4 | 25:13.8 | 43:22.7 | 7116 | 13665 | 1:37:57.1 | 3:41:57.5 | |